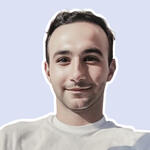 Tawfiq Abu-Khajil
A bit about me ...
Who?
I lead sales at Qualifi.hr 🐨 – which enables companies to hire great talent faster by offering the fastest and most convenient phone interview experience in the world.

I also build bridges for entrepreneurs and investors across Silicon Valley and the Middle East & Africa region through TechWadi.org 🌱

5+ years of experience at high-growth startups – building sales functions and hiring, coaching & managing SDRs and AEs.

Previously: Founding team member at Altru Labs (Acquired by iCIMS) & QuadPay (Acquired by Zip Co)

Always seeking personal growth on a daily basis, and having intellectual conversations with new people. 💬

Follow me at @tawfiqabukhajil on Twitter, Instagram, and Medium 👋
What?
Director of Sales @Qualifi.hr

Head of Digital @TechWadi

Sales Dev Team Lead @Altru (Acquired)

Sales Dev @QuadPay (Acquired)

Ex-Cofounder @Halalivery

Law with Honours @University of Nottingham